BMF Monodimensionale
BMF Monodimensionale is a small hand-drawed typeface family that got its name from three important facts:
at first, it is monospace ( MONO- );
then, it simulates a 3D effects ( -DIMENSION- );
and last but not least, I made it ( -ALE ).
MONODIMENSIONALE , also.

I love to things that are not really full of meaning: why did I made a monospace font by hand? Becouse it looks fantastic!
Btw: the BMF Monodimensionale comes in three weight that can be combined (layered) to create colorful headlines. And it has also a collection of very useful symbols.
Take a look to it and buy it at BuyMyFonts.com!
A font specimen I made for the magazine Slanted .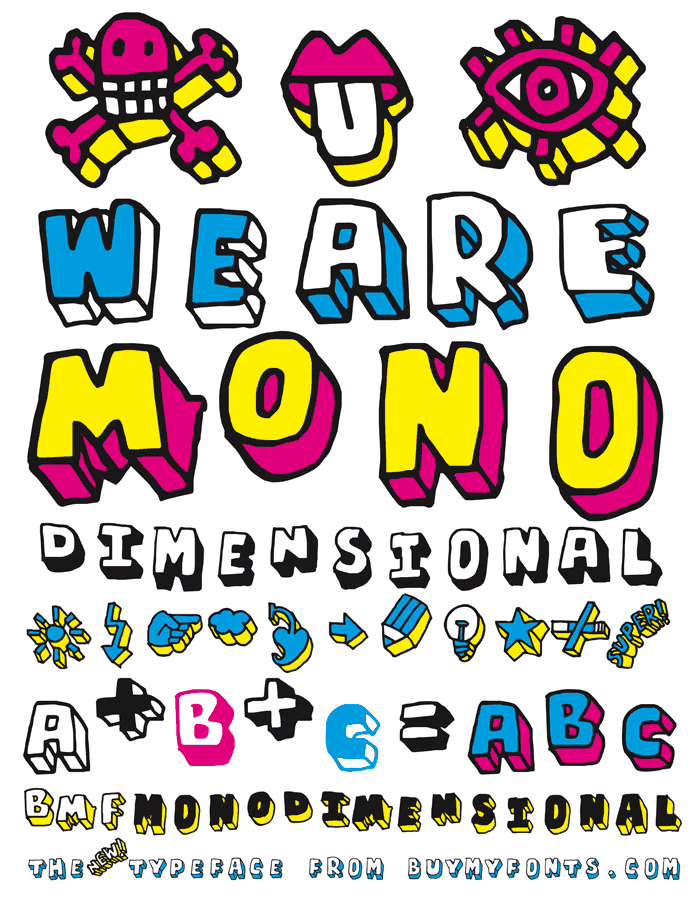 BMF Monodimensionale as appeared in Slanted N°11.
Hier you can see the three different version of the BMF Monodimensionale and an example of how you could layer them.



BMF Monodimensionale A

BMF Monodimensionale B

BMF Monodimensionale C

BMF Monodimensionale A + B + C